Sheena on TV
-
Irish McCalla acted in this short lived television serial. She was a pin-up queen as well as an actress. I do not believe she starred in anything other than Sheena. To the best of my knowledge there were a total of 26 thirty minute television shows. The first episode was broadcast in Septermber of 1956. Although the show was popular when it aired, a second season was never produced because the show's producers (the Nassour brothers) were not interested in resuming production. Irish McCalla, through her own resourcefulness, managed to keep the character popular with many personal appearances across the country (in costume) and by doing guest shots as Sheena in comedy sketches on the hit variety shows of the day, most notably the Steve Allen Show and the Milton Berle Show (in the latter, she was the subject of a "This Is Your Life" spoof and ended up meeting Elvis Presley). The Berle show appearance is available on video.
Thanks to a devoted fan of Sheena, I have now seen 3 episodes of Sheena. The show was a lot different than I expected after having seen all the stills of bondage. The target audience was children. There was no romance involved between the lead male(Bob Rayburn) and Sheena. There was also a comical chimpanzee named Chim who often stole the scenes. You can buy the videos over the internet from several large distributors including Moviecrafts.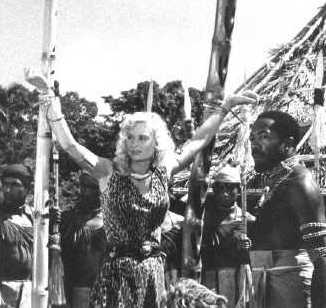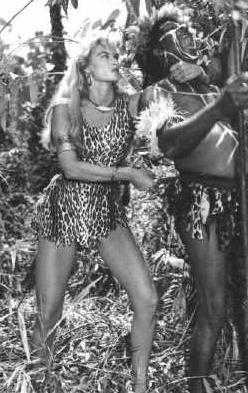 Here are a couple other thumbnails that you can click on to enlarge



Since having done the Sheena series, Irish also starred in six low budget B movies including Five Gates of Hell and She Demons by Richard Cunha that also starred Gene Roth and Rudolph Anders in 1958. Described as "A cruise party takes a wrong turn and find themselves on a remote island inhabited by a tribe of sexy, modestly-garbed She Demons, some Nazi agents, a mad scientist, a war criminal, and a serum that transforms human beings into hideous beasts."
To see the movie board for this film click here. Irish also went on to be an artist after her acting/modeling career ended. To see a piece of her artwork click here.
Links

Pin-up Zone - a site dedicated to the Pin-up queens of the 50's including Irish McCalla. This site has some great information and background on Irish. Also quite a few pics. Unquestionably the best Irish site I have seen.
Sheena Tapes This site has a synopsis of various Sheena shows as well as the tapes for sale.