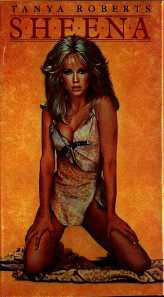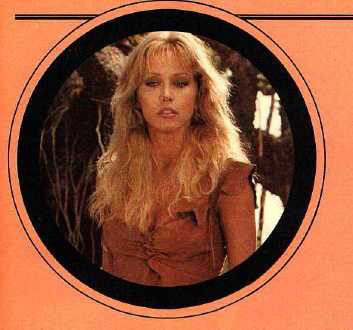 Released by Columbia Pictures in 1984. Director John Buillermin. Producer Paul Aratow. Executive Producer Yoram Ben-Ami. Screenplay David Newman and Lorenzo Semple, Jr..
The back of the video cassete reads as follows:
" Journey to deepest, darkest Africa for thrills, romance and high adventure! Starring Tanya Roberts, Sheena brings to life the legendary "queen of the jungle" in a spectacular epic shot entirely in Kenya. Orphaned in Azmbuli territory, the blond Sheena(Roberts) is raised by a noble tribe and taught to communicate telepathically with all creatures. She gets a first-hand lesson in love from Vic Casey(Ted Wass), a wisecracking TV journalist. In Africa for a story on a royal football player, Prince Otawani(Trevor Thomas), Vic soon finds himself embroiled in a web of political intrigue. And when the evil prince decides to invade the Zambuli's land, it si up to Sheena to rescue Vic and save her idyllic kingdom!"
That was quite a mouthful and makes the movie sound a lot better than it actually is. A short synopsis would go as follows. Blond girl found and raised by natives develops special(ridiculous) powers to communicate telepathically with animals. As she grow up she takes her clothes off several times and falls in love with the first white man she meets. The background story has to do with greed, evil, stereotypical characters and saving Africa. All around, the acting and plot are not very strong, but the subject matter and the fact that these people took this seriously firmly ensures this movie as classic camp and thus a place in Cubic Zirconia. There are also several interviews with Tanya in Starlog magazine in which she was talking about sequels. Also of interest, apparently there was someone else who auditioned for the role but did not get it, her name was Sybil. Although I think Tanya is far better looking, I have heard rumors that there was a lot more going on that helped Tanya land the role. Despite how bad the movie really was, Tanya did make a good looking Sheena although a Jungle Girl purist like myself would have preferred the leopard skin to the tanned leather outfit.
Below are some stills from the Movie, an alternate costume for Sheena modeled by Tanya Roberts, the movie poster art and a signed picture of Tanya R as Sheena. Please click on the thumbnail to see a larger version.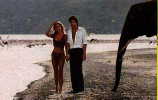 There was alsoa Marvel Super Special magazine/comic for the film with the cover by Gary Morrow. The art in the comic was not among Morrow's best work. The comic did have several interesting interviews at the back and showed just how seriously the participants took this film. In the future, I may scan some of these interviews for others to read and post them on this page. Enjoy the movie and read Sheena comics.