Ann.... a life in constant peril
Ann was Kaanga's mate. Kaanga was the Fiction House version of Tarzan and that makes Ann the Fiction House Jane. They appeared together in both Jungle Comics and Kaanga, a self titled short run book. Ann fits the classic damsel in distress stereotype. If it were not for Kaanga she would have been a slave, killed by wild animals or the main course of savages a hundred times over. She was tied up in every issue and tied up on the cover of almost every Jungle Comic. Ann Mason met Kaanga when he rescued her from a slave trader named Bill Blackton(Jungle Comics #1). She has been with him ever since. Her character does little other than find herself in precarious situations and as such her character did not develop as fully as other Jungle girls. Below are a few scans of Ann, a link to a complete cover gallery of Jungle covers and a link to a sample story of Ann. The first 2 images are of Ann and Kaanga's first encounter. Notice how Ann costume is similar to Nyoka's in this first appearance. By the 8 th issue, she was wearing a one piece red swim suit and by issue 34 was into a leopard skin suit. The comic covers showed her in animal prints at a much earlier stage. Ann changes her outfit several more times during the series(a girl just never knows when she is going to get captured and tied up), initially more conservative and later more revealing. Like most of the Jungle Girl genre books, there was little continuity to the story line and only a handful of reoccuring villians.

One of the scans below is of a short battle scene with Ann, the closing caption by the victor is " the one called Ann was easily overcome " (that pretty much summarizes Ann). There are, as in all Fiction House books, suggestive scenes as the one below.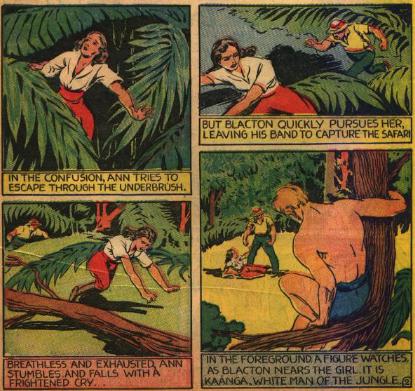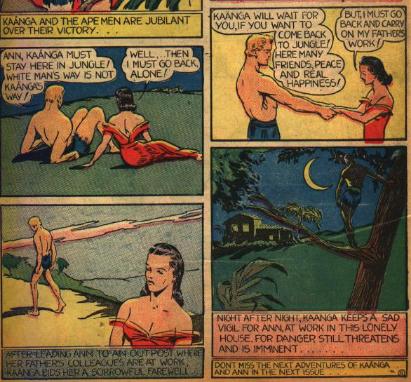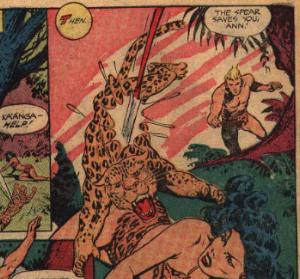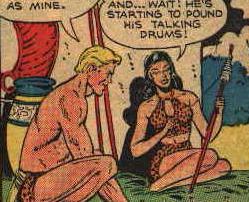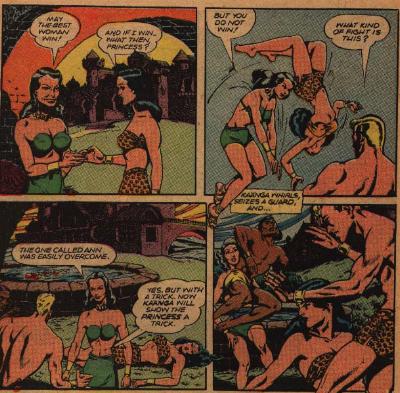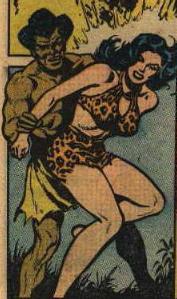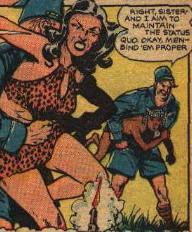 click here for a typical Kaanga and Ann story


click here for the Jungle Comics Cover Gallery

click here to go back to the Jungle Girl Roster

click here to go back to the Jungle Girl Main page



HOME / COMICSTRIP ART / COMICART
DAREDEVIL / JUNGLE GIRLS ART / COMICS

WWW.ART4COMICS.COM